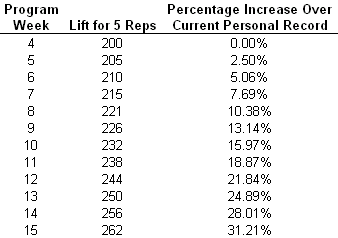 Tutaj zamieszczę trening, który sam wykonuje, a który jest dobrym pomostem pomiędzy trójbojem siłowym, a dwubojem olimpijskim. Składa się on aż z czterech ćwiczeń, które są wyjątkowo ważne dla sztangistów, choć są to tylko ćwiczenia pomocnicze. Dodatkowo, łatwiej jest je wykonać, opróbowałem już wykonywać clean & jerk i snatch tak jak to robią olimpijczycy, ale to jest wyższa szkoła jazdy, łatwo sobie zrobić krzywdę. Power clean, high pull, wyciskanie wojskowe i przedni przysiad to stosunkowo łatwe do wykonania ćwiczenia, dlatego nikt nie powinien mieć z nimi problemu. Jest tu także wyciskanie na ławce płaskiej, co przypadnie do gustu zwolennikom tego ćwiczenia. O brak martwego ciągu i wykonywanie przysiadów tylko raz w tygodniu się nie martwcie, trening i tak da naprawdę niezłe rezultaty.
Mała uwaga - na wszelki wypadek obliczcie swoje maksimum dla pięciu powtórzeń z każdego ćwczenia i odejmijcie powiedzmy 2.5%, lub nawet 5%, tak żeby bić rekordy gdzieś dopiero koło czwartego tygodnia - dajcie sobe czas na przyzwyczajenie się do tej formy treningu. Zamieszczam przykładowy wykres progresji liniowej, która jest podstawą tego treningu.
100% - to maksymalne obciążenie dla pięciu powtórzeń, nawet nie myślcie, żeby zaczynać od większych wartości w pierwszych seriach, zakatujecie się naśmierć.
Przedni Przysiad 5x5 - 60%, 70%, 80%, 90%, 100%
Wyciskanie 5x5 - 60%, 70%, 80%, 90%, 100%
Power Clean 5x5 - 60%, 70%, 80%, 90%, 100%
Przysiad 5x4 - 60%, 70%, 80%, 90%
Military Press 5x4 - 70%, 80%, 90%, 100%
High Pull 5x4 - 70%, 80%, 90%, 100%
Przedni Przysiad 5x4, 3x1, 8x1 - 60%, 70%, 80%, 90%,
102.5%
, 80%
Wyciskanie 5x4, 3x1, 8x1 - 60%, 70%, 80%, 90%,
102.5%
, 80%
Power Clean 5x4, 3x1, 8x1 - 60%, 70%, 80%, 90%,
102.5%
, 80%
Obciążenie dla trzech powtórzeń z trzeciego dnia staje się obciążeniem dla pięciu powtórzeń w ostatniej serii w pierwszy dzień następnej sesji - potem znowu dodajemy obciązenie, i tak w kółko, jeżeli nie damy rady wykonać założonej ilości powtórzeń, to zatrzymujemy się na tym obciążeniu, aż uda się nam je pokonać
Obciążeniem dla ośmiu powtórzeń jest to wykorzystane w trzeciej serii, uwaga, bo ten punkt treningu potrafi być wyjątkowo wyczerpujący, dajcie sobie między każdą serią dwie minuty przerwy, może nawet nieco więcej, jeżeli nie czujecie się zregenerowani.
Do tego jeszcze asysty po właściwym treningu - w moim przydadku łydki i brzuch w pierwszy i trzeci dzień, w drugi robię ramiona. Na każdą grupę jedno ćwiczenie po trzy serie, każda o 6-8 powtórzeń. Choć właściwie, to powinny wyglądać tak:
1 dzień - skłony tułowia z obciążeniem (hypers) - 2 serie. Oraz spięcia z obciążeniem, 4 serie
2 dzień - spięcia
3 dzień -
pompki na poręczach
3 serie po 6-8 powtórzeń, potem tyle samo serii i powtórzeń dla dowolnych ćwiczeń na bicepsy i tricepsy
Ja robię nieco inaczej, bo asysty to tylko asysty, więc droga wolna - tylko nie przesadzajcie z dziwaczeniem.