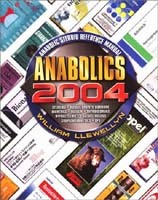 Ksiazki dla tych ktorzy szprechaja troche po angielsku.
1. Anabolics 2004
by William Llewellyn
Over 1,000 full-color pictures
120 detailed drug profiles
Monstrously oversized 416 pages!
The Most Complete Guide Ever Written!
Expanded Chapters concerning Drug Profiles, Cycling and Steroid Biochemistry
Lab Test results on Various Black Market Steriods
Includes a New 24-Page Full-Color picuter Library
Authored by the most knowledgeable, respected and controversial steroid writer of our time, William Llewellyn's ANABOLICS is the best selling and most highly regarded drug reference book in history! Now in its third update and fifth year of printing, no book even comes close to the depth and accuracy of information provided in this one. Inside this monstrously oversized 400+ page manual Llewellyn shares well over a decade's worth of meticulous medical research and real-world experience, bringing the reader a combination of scientific knowledge and personal insight unparalleled by any writer in the field. No stone is left unturned in this latest update, with extensive and comprehensive sections concerning steroid biochemistry, cycling, side effects, counterfeit drug identification, global product availability, and new performance-enhancing drug advancements. ANABOLICS 2004 has it all - from an intimate review of the 70 year history of modern steroid development, to a cutting edge insider's look at the latest drugs in the gym bags of the world's top competitors. Packed to the brim with more full-color pictures, detailed drug profiles, up-to-date black market information, and side-by-side real vs. fake product comparisons than any book ever written on the subject. Plus, you'll find pages of recent laboratory analysis results on many popular steroids - find out what the manufacturers are really putting into their products (you'll be shocked). See for yourself why ANABOLICS 2004 is already being considered THE "Standard Issue" performance-enhancement manual for bodybuilders, professional athletes, trainers, even doctors and law enforcement officers, worldwide!
ANABOLIC OVERVIEW
An Introduction To Testosterone
Direct and Indirect Anabolic Effects
Free vs. Bound Testosterone
Estrogen Aromatization
DHT Conversion
A Brief History of Anabolic/Androgenic Steroids
Synthetic AAS Development
Synthetic AAS Chemistry
Steroid Nomenclature
Side Effects
Steroid Safety Debate
Injection Procedure
Steroid Cycles
Steroid Lab Test Results
Paper Steroids
Underground Steroid Manufacturers
Counterfeit Steroids
Country Specifics
Designer Steroids
6
DRUG PROFILES
Anabolic-Androgenic Steroids
1-Testosterone (dihydroboldenone)
Anabolic DN® (nandrolone cypionate)
Anabolic NA® (nandrolone/methandriol blend)
Anabolicum Vister® (quinbolone)
Anadrol®® (oxymetholone)
Anadur® (nandrolone hexyloxyphenylpropionate)
Anavar (oxandrolone)
Andractim® (dihydrotestosterone)
Andriol® (testosterone undecanoate)
Androderm® (testosterone)
AndroGel®® (testosterone)
Cheque Drops® (Mibolerone)
Danocrine® (danazol)
Deca-Durabolin® (nandrolone decanoate)
Deposterona® (testosterone blend)
Dianabol® (methandrostenolone)
Dinandrol (nandrolone blend)
Drive® (boldenone undecylenate/methylandrostenediol dipropionate)
Durabolin® (nandrolone phenylpropionate)
Dynabolon® (nandrolone undecanoate)
Equilon 100 (boldenone blend)
Equipoise® (boldenone undecylenate)
Equitest 200 (Testosterone blend)
Esiclene® (formebolone)
Halotestin® (fluoxymesterone)
Hydroxytestosterone (4-hydroxy-testosterone)
Laurabolin® (nandrolone laurate)
Libriol (nandrolone/methandriol blend)
Masteron® (drostanolone propionate)
Megagrisevit-Mono® (clostebol acetate)
Methandriol (methylandrostenediol)
Methyltestosterone
Miotolan® (furazabol)
Myagen (bolasterone)
Neotest 250 (testosterone decanoate)
Nilevar® (norethandrolone)
Omnadren® (testosterone blend)
Orabolin® (ethylestrenol)
Oral Turinabol (4-chlorodehydromethyltestosterone)
Parabolan® (trenbolone hexahydrobenzylcarbonate)
Primobolan® (methenolone acetate)
Primobolan® Depot (methenolone enanthate)
Proviron® (mesterolone)
Sanabolicum (nandrolone cyclohexylpropionate)
Spectriol (testosterone/nandrolone/methandriol blend)
Sten (testosterone blend)
Steranabol Ritardo (oxabolone cypionate)
Sustanon® (testosterone blend)
Synovex® (testosterone propionate & estradiol)
Test 400®
Testolent (testosterone phenylpropionate)
Testosterone cyclohexylpropionate
Testosterone cypionate
Testosterone enanthate
Testosterone propionate
Testosterone suspension
Testoviron® (testosterone blend)
Trenbolone acetate
Tribolin (nandrolone/methandriol blend)
Triolandren (testosterone blend)
Winstrol® (stanozolol)
66
ANABOLIC AGENTS (MISC. NON-STEROID)
Kynoselen®
178
ANALGESICS
NSAIDs (Non-Steroidal Anti-Inflammatory Drugs)
Nubain® (nalbuphine HCL)
Opiate Analgesics
180
ANTI-ESTROGENS
Arimidex® (anastrozole)
Aromasin® (exemestane)
Clomid® (clomiphene citrate)
Cyclofenil
Cytadren® (aminoglutethimide)
Fareston® (toremifene citrate)
Faslodex® (fulvestrant)
Femara® (letrozole)
Lentaron® (formestane)
Nolvadex® (tamoxifen citrate)
Teslac® (testolactone)
186
DIURETICS
Aldactazide® (spironolactone/hydrochlorthiazide)
Aldactone® (spironolactone)
Dyazide® (triamterene and hydrochlorothiazide)
Hydrodiuril® (hydrochlorthiazide)
Lasix® (furosemide)
Lasilactone® (spironolactone/furosemide)
202
ERYTHROPOIESIS STIMULATING DRUGS
Aranesp® (darbepoetin alfa)
Epogen® (epoietin alfa)
210
FAT LOSS AGENTS - SYMPATHOMIMETICS
Albuterol
Clenbuterol
Ephedrine (ephedrine hydrochloride)
HELIOS (clenbuterol/yohimbine hcl blend)
Yohimbine hydrochloride
Zaditen® (ketotifen)
214
FAT LOSS AGENTS - THYROID
Cytomel® (liothyronine sodium)
Synthroid® (levothyroxine sodium)
Triacana® (tiratricol)
224
FAT LOSS AGENTS - OTHER
Adipex-P® (phentermine hydrochloride)
DNP (2,4-Dinitrophenol)
Capoten® (captopril)
Parlodel® (bromocriptine mesylate)
228
GROWTH HORMONE & RELATED
Catapres® (clonidine hydrochloride)
GH-RH (sermorelin acetate)
Human Growth Hormone (somatropin)
Nutropin AQ® (somatropin aqueous suspension)
Nutropin Depot® (somatropin)
Protropin® (somatrem)
234
HYPOGLYCEMICS
Glucophage® (metformin Hcl)
Insulin
Rezulin® (troglitazone)
244
LIVER DETOXIFICATION
LIV-52®
Silymarin (Milk Thistle Extract)
Tationil® (reduced glutathione)
252
PROSTAGLANDINS & RELATED
Lutalyse® (diniprost)
X-Factorä (arachidonic acid)
256
REDUCTASE INHIBITORS
Avodart® (dutasteride)
Proscar® (finasteride)
260
SITE ENHANCEMENT
Caverject® (alprostadil)
Nolotil® (metamizol)
Synthol
264
TANNING AGENTS
Trisoralen® (trioxsalen)
Oxsoralen (methoxsalen)
268
TESTOSTERONE STIMULATING DRUGS
HCG (Human chorionic gonadotropin)
272
BIBLIOGRAPHY
APPENDIX
A. Growth Hormone and Ancillary Drug Photo Library
B. Drug Availability Tables: Listings by Generic Name (green pages)
C. Drug Availability Tables: Listings by Brand Name (blue pages)
D. Drug Availability Tables: Listings by Country (pink pages)
E. Anabolic/Androgenic Steroid Photo Library
POW * MIA
Bring them home!!!

Farmaceuta - Technik